I know it sounds a bit sensational but it's true… Can I promise it will work for you? No, but I really do think it has the potential to.
As an Etsy seller or creative business owner I am an advocate of two things (well, more than two but this post is really about just two of them).
Blogging – having a blog about your business, your craft, your Etsy shop…
Mailing list – having a way to stay in touch with people who are interested in your shop or your business and want to stay in-the-know
So how can you grow your blog and reclaim more of your time…right now?
Well, I'm going to share my experience with three tools I have personally used – one that was recommended by some internet marketing pros (which I bought and used) and then the two that I ended up switching to based on the reality of my own unique situation.
Two of my new favorite tools are ones that you might not hear about from a lot of big name bloggers… at least, not yet.
Email Newsletter Service
Let's start with email newsletters. If you run a business then you probably already know the importance of staying in touch with your customers, followers, fans, or whatever you choose to call your "tribe" (that's apparently the buzz word du jour…)
I started off using Aweber on the recommendation of the pros. Once I signed up and got into the backend I was like a little kid in an over-sized house. Talk about email marketing tools on steroids… There was so much in there and so many tools and functions, which can be great… But here's the problem I had… I wasn't yet at the stage where I felt I needed all those bells and whistles, but in addition to being overkill for me at that phase of my business, I just felt that down the road all the bells and whistles would still just be a distraction for me.
I know people say we have to measure our metrics and all and Aweber would be great for that, but I prefer to measure my metrics right now based on direct communication with the people who have taken an interest in what I am doing. I'm sure the stats can be useful, but for me, it just wasn't a good fit.
Enter MadMimi… The interface is clean and simple. If you want to send a newsletter to the people on your mailing list, just go in there and start typing like you would an email or a Word document. Simple. Easy peasy.
Now, you'll need to do some initial set up, like creating a "Thank You" page for people who signup to your mailing list and defining your mailing list or lists if you have more than one etc. But after that, its smooth sailing. No need to revisit any tutorials to re-learn how to create a newsletter to mail out each time you want to send one.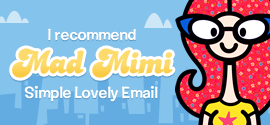 An added bonus for Etsy sellers is that they have a tool to let you add products from your Etsy shop into your newsletter so you can send people directly back to your Etsy shop from your newsletter. You won't find too many mailing list services that specifically create integration tools for Etsy sellers.
One other nice thing is that the MadMimi folks realize that everyone starts from zero, so you get to use the service for free until you gain a certain number of subscribers (500 subscribers) then you start paying for the service… Lovely!
Tech Support… Yes Tech Support!
Then there's the blog… If you run your own self-hosted blog (and this is what I advise) and you aren't a techie, then you'll soon find that you're spending tons of time trying to fix things, make tweaks here and there, and Googling how to do website stuff that just stumps you.
What does this all mean? Wasted time, that's what!
Enter WPCurve. I can't even tell you just how much I am loving the fact that I broke down and signed up for this service. I tell you, for absolutely any little problem or tweak or techie stuff I need done on my website, I simply send an email to their support staff and someone takes care of it for me. It's like I have my very own IT technical support team and I'm a one-person outfit.
This service has given me back so much of my time because I am spending a lot less time trying figure things out myself and fiddling with things on my own because I just turf off my website problems to them.
They also make proactive recommendations every single week on ways to improve my website and if I like the recommendations all I need to do is give them the go-ahead to implement the suggested changes and voila!
But there's one little catch… Your website has to be on a self-hosted WordPress platform.
Oh yeah, and it costs $69/month. If you have that money to spend in your budget then it just might be worth it for you. For me, it's worth every single penny in time saved and time that I can spend actually growing my business and focusing on the things I need to focus on to achieve that 🙂
Both MadMimi and WPCurve have excellent customer service too. I can't even begin to tell you how nice it feels to work with companies that respond quickly and really seem to appreciate little ol' me as a customer. It makes all the difference in the world.
Will these tools work for you too?
Well personally, I know that I tend to read what tools people with successful blogs are using and then based on their experiences with those tools I choose whether or not I want to use them as well. My thought process behind this is that if these folks have found success with these tools then perhaps (and hopefully) I will too.
What I tend to forget though is that I'm not necessarily one of the "big guys" so what works fabulously well for them may not work quite as successfully for me.
If your business is still young and growing like mine and you really want to focus on doing the things that will help you grow and don't want to waste your valuable time trying to learn how to create newsletters instead of just simply sharing great info OR trying figure out technical website stuff, then these might be worth the investment (free MadMimi if you have less than 500 subscribers, then plans start at $10/month).
If you do try either or both of these, I'd love to hear about your experience with them. Was it as good as mine?
Please note: I believe in MadMimi and the links above are affiliate links, which means that if you click on them and sign up, I may get (at no additional cost to you) a commission for the sale.